Founded at the end of 2016 by Francesco Camarlinghi and Simone Ferroni, Ludicrous Games is a two-men independent game development studio based in Lucca, Italy.
We're currently working on our debut title, an arcade-ish game called Guntastic.
Meet the Team
Francesco Camarlinghi
Designer / Programmer
---
Francesco first started messing around with game development when he used the Unreal Tournament editor to add a secret room stacked with weapons, that only he would know how to access, to every single map he played with friends at LAN parties.
Fast-forward to present day, he's now in charge of design and programming.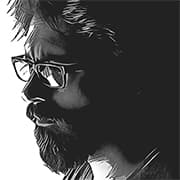 Simone Ferroni
Artist / Sound Designer
---
Simone always loved drawing and playing music, and decided to turn the latter into his career.
He worked in the advertisement field as a composer, producer and sound designer for six years before game development cast its spell on him. Right now he is responsible for art and sound design.