Posted by Francesco
4 Min. read
We're nearly there! Guntastic will unlock later today (at 6PM CET) on Steam Early Access. In this post I'd like to go over what we worked on in the past few weeks in preparation for the game's release.
Customizable Game Rules
Being able to customize how a match is played was one of the most popular request we got during the beta. So coming in the first Early Access release is the ability to change the Kill Goal players need to reach to win the game and the Round Time Limit after which players are forcibly eliminated.
Since changing these two simple values can already have a drastic effect on the game's pace, we decided to limit the feature (at least for now!) to local couch games and online private games and to a limited set of options.
Kill Goal: 5, 10 (default), 15, 20, 30.
Round Time Limit: No limit, 15s, 20s, 25s (default), 30s.
More options will be considered and eventually added as we iterate on the feature. As always, we're looking for your feedback!
Discord Notifications
For last month's beta we got basic integration with Discord into the game so that you could see who was playing Guntastic by looking at his status. In the Early Access release of the game we added a feature that leverages Discord Webhooks to post a message into a dedicated #matchmaking channel whenever someone is looking to play online.
We hope this will give players a chance to find opponents more easily. For a future update we'd like to make join requests work seamlessly through Discord, so that you could then simply click on a player's avatar to join the match.
Platform Support: Windows 32-bit and Xbox One
For the Early Access release we expanded the line-up of supported platforms to include Windows 32-bit (in addition to Windows 64-bit and macOS). We're also excited to announce that Guntastic will come to Xbox One in 2020!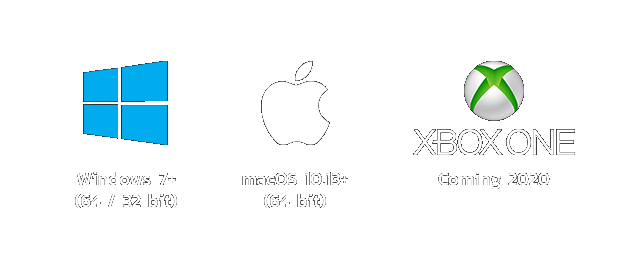 (We received a few questions regarding Linux support, but I'm afraid we don't have any definite plans for it at the moment. Each port brings several challenges – from development to testing – that we need to carefully evaluate before committing to it. Remember: we're a very small studio! With Linux, what bothers me the most is testing due to how fragmented the ecosystem is.)
Bugs Fixes & Improvements
During last month's open beta we received several bug reports related to the UI and the game itself. For this first Early Access release we decided to focus on the UI:
Lobby: fixed an issue that would reset all players to use the same character in local games when the game window lost focus (i.e. because it was minimized).
Lobby: fixed several issues with the character/level grids displaying out-of-date data during both local and online games.
Lobby: clicking on a "Join" button should no longer join the player in a different slot.
Lobby: reduced flickering when switching between the character selection and level vote screen.
Lobby: player join/leave sounds were fired incorrectly in certain cases.
Accessibility: items in the character/level grids now have a mouse hover state.
Game is now compiled using the Shipping profile in UE4 for increased performance.
Keep those bug reports coming during Early Access! 😄 That's it for now. We look forward to your feedback here or on Discord. See you soon in Early Access!
Posted by Francesco
4 Min. read
It's official! Guntastic will be released in Early Access later this month, on November 21st. Read on for all the juicy details, but not before having seen our brand new trailer (seriously, Simone worked hard on it, go watch it! 😄).
Why Early Access?
The experience we had with last month's open beta weekend was simply amazing: support from players was overwhelming and feedback great. We feel Early Access is the natural next step to continue working on the game with your help.
When and where?
On November 21st at 6PM CET, on Steam. We even have an official countdown, how cool is that?
The game will also be available on Green Man Gaming and hopefully on additional stores as well later this year.
How much will Guntastic cost?
$11.99 during Early Access.
What about discounts?
We're planning to run a 10% discount at launch.
Unfortunately we won't be able to participate in the Steam Christmas Holidays sale event due to Valve's restrictions on discounts for newly launched products. As such, buying the game at launch will be most affordable option until next year.
Will you offer 4-packs or similar promotions?
While we'd love to offer these kind of promotions they're unfortunately no longer supported by Steam for new games. So that's a no. Sorry.
How will the game differ from what I played during the beta?
We have already integrated some of your feedback into the game and fixed some issues you reported. However, since the beta ended only a couple of weeks ago we didn't have time to work on larger features as we needed to go through the approval process on Steam and prepare for the launch itself. Expect more features to land in post-launch updates – that's what Early Access is for, right? 😉
How do you plan to handle development?
Our plan is to stick to a tight release schedule where new content is released approximately every month, with minor features and bug fixes possibly released at a higher frequency. Please note, however, that this might change as we learn what works best in order to create the conditions for an healthy collaboration between you and us.
Please remember: this is our first Early Access! 😃 The idea is to gradually increase community-involvement throughout development starting with smaller features and bug fixes before tackling larger tasks such as new stages or game modes.
I'm a Streamer/Youtuber/Blogger…
We're always happy to work with Content Creators! Please send us a request on either Keymailer, Do Distribute, or Indieboost and we'll provide you with a review key. Also make sure to check out our press kit.
I'm a Journalist…
Wonderful! Make sure to get in touch at press@weareludicrous.com.
Anything else?
Not for now! Make sure to come join the community on our Discord server and talk to us. We look forward to your feedback.
Posted by Francesco
3 Min. read
Not every hole comes out with a doughnut around it – or was it the other way around? Never mind. What's important is that thanks to the help of our awesome community on Discord we've been able to catch several bugs in the first beta build we released yesterday in preparation for the beta weekend ahead of us.
(By the way, make sure to join the Guntastic open beta if you haven't already!)
1. PS4 controllers should now be working properly
There were some issues in our management of non XInput controllers (such as the PS4 and Switch Pro ones) that prevented them from working properly. For now we've disabled our built-in support and are relying on Steam Input for them to work properly. The fix should be enabled automatically by Steam, but if you still have issues with these controllers make sure to enable the following settings:
2. Improved network performance
Some development features were inadvertently left active in our previous built, resulting in higher than usual lag and packet losses in network games.
3. Fixed crashes when searching for online matches
We identified and fixed a couple of crashes that happened when canceling a search for online games at the very last moment (immediately before joining the online lobby). Thanks to Discord users bedef and Ordaricc for reporting the issues and sharing their log files.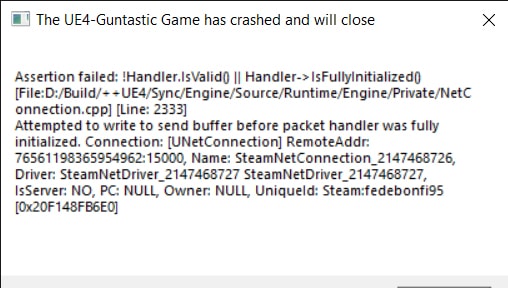 4. Mac build should now download
An issue in Steamworks configuration prevented the Mac build of the game to download and start correctly. This is now fixed.
5. Shorter post-match waits
Too much time was spent on the Ladder screen, we heard you loud and clear. Waiting for a proper way to skip the ladder altogether (i.e. by requiring all players to press the skip button) we reduced the duration of the ladder screen from 20 to 12 seconds.
And that's it for this hotfix! We'll continue to monitor the situation during the upcoming beta weekend – please keep those bug reports coming! See you in-game! 💥