Welcome! This page contains information and media on our games as well as on the company itself. Always feel free to get in touch!
Games

Guntastic is a single-screen couch and online multiplayer shooter where up to four players battle in lightning-fast, one-shot one-kill matches over levels changing every few rounds. A frantic homage to the 16bit coin-op games of the past!
The game blends fast gunfights with an over-the-top pixelated art style and retro soundtrack reminiscent of the coin-op games of the late '90s. Gameplay is humorous and comedic, but at the same time highly competitive. Players have a simple goal: annihilate their opponents using a vast arsenal of weapons, powerups and environmental traps. But they have to be quick: every round only lasts twenty-five seconds – after which anyone who's still alive is forcibly killed!
Factsheet
Developer

Ludicrous Games

Release Date

2019

Platforms

Steam (PC, Mac)

Genres

Action, Arcade, Party Game

Press Contact

press@weareludicrous.com

Price

$15.99

Website
Social
Features
Fast-paced, one-shot one-kill combat.

Choose from a vast arsenal of weapons and powerups to wreak havoc on your foes.

Easy to learn, hard to master gameplay.

Although the basics are easy to pickup, Guntastic offers rich gameplay possibilities so that two matches never play the same.

Single screen, 4-players online/local multiplayer.

Challenge up to three friends in local couch games or compete against people from around the world in online multiplayer matches.

Retro and over-the-top visuals and soundtrack.

Everything in the game is reminiscent of the 16-bit era, and was born out of our love for the videogame and movie classics of the past.

Dynamic levels changing every few rounds.

Use the environment to your advantage: most levels feature dynamic elements that create spectacular ways to frag opponents!
Awards & Mentions
Unreal Dev Grant – Epic Games
"The visuals are surprisingly detailed for something so clearly 8-bit inspired, but it's the quickfire combat that this game will be remembered for." – Den of Geeks
"With incredibly fast-paced and enjoyable multiplayer mechanics, Guntastic is the perfect game for any gunfighter fans […]." – Daily Star
"It's easy to learn and hard to master, and that simplicity is what kept us fully engrossed." – Game Reactor UK
Media
An archive containing all the media is available for download.
Logo

Trailers
Splash Art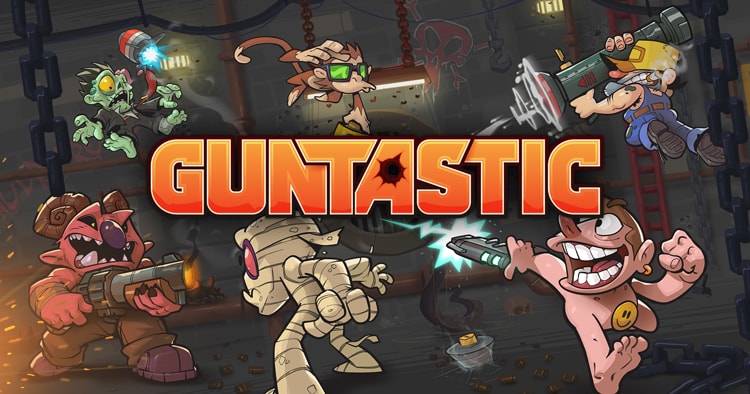 Screenshots & GIFs
Press Kit
Company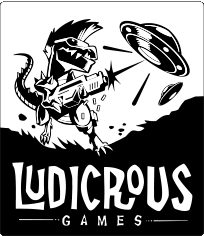 Founded at the end of 2016 by Francesco Camarlinghi and Simone Ferroni, Ludicrous Games is a two-men independent game development studio based in Lucca, Italy. We're dedicated to create original, over-the-top videogames that are simply fun to play.
Factsheet
Location

Lucca, Italy

Founding Date

November 2016

Press Contact

press@weareludicrous.com

Website
Social